Driving Innovation
We innovate
New discoveries become new technologies and new technologies become new products to give you a better driving experience. Innovation is not just something we do; it's who we are and who we've always been since 1898.
Our culture of creation has given us everything from our very brand – we're named after Charles Goodyear, inventor of the vulcanisation process – to the reputation for excellence that's made us one of the world's largest tyre manufacturers.
We were there
At Goodyear research, our scientists are proud to draw on over 100 years of innovation in discovery, design and manufacturing for the inspiration that fuels today's research.
When the Model T Ford rolled off the production line in 1908, it rolled on Goodyear tyres.
We're more than a car tyre maker – we made the world's first pneumatic airplane tyre in 1909 and the first radial tyre for commercial aircrafts in 1983.
The first vehicle to break the 600mph land speed record did it on Goodyear tyres (1964). We also have a long history of working with Formula 1 teams and manufacturers, putting Goodyear tyres on cars that win races.
We put the first tyres on the moon – the 1970 Apollo 14 moon lander was shod with Goodyear's XLT tyres.
We have a habit of making firsts: the first off-road tyres (Rut-Proof, 1921); the first tyres designed to keep rolling after a blowout (Lifeguard, 1934); the first mass-market tyres for wet conditions (Aquatred, 1991) and many more.
We think green – from the introduction of the BioTred corn-based compound in 2001 to our current work on a renewable biomass tyre.
At the leading edge of more than just tyres
Our culture of innovation isn't just confined to the history books, it still lives on today in the work of our worldwide teams of Goodyear research engineers and scientists who are not only at the forefront of rubber and polymer science but also in diverse fields including computing, physics and mathematics.Our researchers are responsible for thousands of patents, with our inventions and breakthroughs used not only in tyres but also in areas including adhesives, food packaging and even artificial hearts.
Goodyear Research was the training ground for Paul Flory, a Nobel laureate in the field of polymers.
Two research associates have been awarded the Goodyear Medal, the highest award of the Rubber Division of the American Chemical Society, which honours scientists and engineers who've made outstanding innovations.
Better technologies for better driving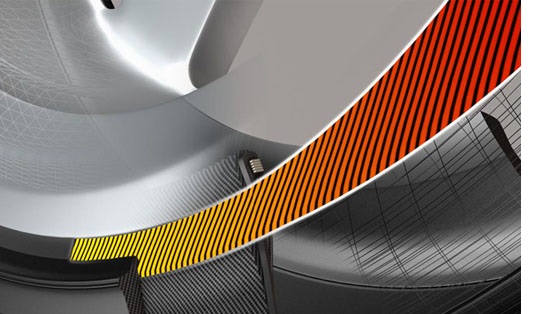 We've never lost sight of what we do best – developing brilliant new tyre technologies for the needs of today's driver. From tyres that deliver excellent performance under the toughest of hard driving conditions, to long-lasting tyres that save you money at the fuel pump, we put the driver first in everything we do.
Our Goodyear Innovative Technologies include:
RunOnFlat self-supporting tyres (2005) that keep you on the road even after a flat.
ActiveCornerGrip and ActiveBraking (2007) technologies that deliver improved handling under hard braking and cornering.
EfficientGrip Performance technology that lowers rolling resistance for reduced fuel consumption without compromising on performance – rated A for wet grip* (2013).
Into the future
The work continues. Goodyear Research scientists continue to innovate – focusing on a future that not only prioritises the development of high-performance tyres, but also reflects the need for responsible production in a world of dwindling resources.We're also working hard on more environmentally friendly products, with the Biolsoprene™ concept tyre – a tyre made of renewable biomass – unveiled at the 2012 Climate Conference in Copenhagen. We innovate. We always have, and we always will.
Our recent innovations
Goodyear Air Maintenance Technology (AMT)
Tyres with AMT, a self-inflating tyre system, can remain inflated at the optimum pressure without the need for any external pumps, electronics or driver intervention. Proper tyre pressure plays an important role in improved fuel efficiency, reduced emissions and extended tyre life, as well as to keep the vehicle's handling performance at optimal levels.
Goodyear's Air Maintenance Technology (AMT) has received several awards, including:
One of the "Best Innovations of the Year" by Time
The "ten most promising future technologies" from Car & Driver
The 2012 Breakthrough Award from Popular Mechanics
The 2013 Green Innovation Award by the Luxembourg Green Business Summit
One of the "Best 100 Ideas of the Year" in the motor category by Actualidad Economic (Spain)
"Best Technology of the Year" by Auto Sport (China)
Eagle 360
Continuously striving to develop state-of the-art products that set the technology and performance standard for the industry, Goodyear presented a vision of a future tyre that looks radically different from tyres today – it's a sphere.
The Eagle 360 is a spherical, 3-D printed concept tyre that would provide self-driving cars ultimate manoeuvrability, connectivity and biomimicry to increase safety.
The Eagle 360 is designed to reduce driver interaction and intervention by providing;
Manoeuvrability: The multi-orientation of the spherical-shaped tyre allows the car to move in all directions, contributing to safety for passengers, as well as coping with space limitations such as tight parking lots or city streets.
Connectivity: Embedded sensors further increase safety by communicating road and weather conditions to the vehicle control system and other nearby cars, while tread and tyre pressure monitoring technology regulate even wear of the 360-degree tyre to extend mileage.
Magnetic levitation: The tyres would rely on a magnetic levitation system to suspend the car, resulting in a smooth, quiet ride for the passenger.
Biomimicry: Inspired by nature, the 3D printed tread mimics the pattern of brain coral and behaves like a natural sponge – designed to stiffen in dry conditions and soften when wet to deliver excellent driving performance and aquaplaning resistance.
Goodyear IntelliGrip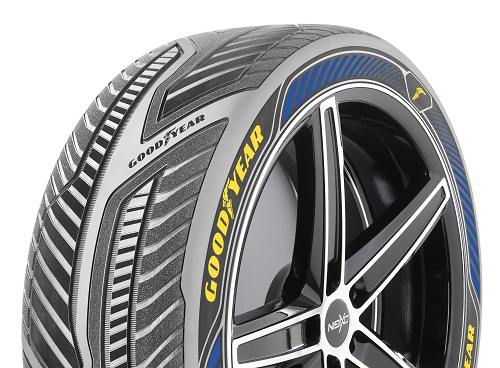 The Goodyear IntelliGrip concept tyre is designed to communicate with autonomous vehicle control systems, sensing road surface and weather conditions for improved driving safety and performance.
Senses road conditions: thanks to its advanced sensor technology and specially designed tread, the concept tyre can sense many road conditions, including both surface and weather conditions.
Active-wear technology: the IntelliGrip also uses advanced active wear technology to assess the condition of the tyre and the vehicle.
Custom algorithms: Goodyear-developed algorithms account for variables such as inflation pressure and tyre temperature.
Adapting to road conditions: when the tyre senses a rainy or slippery road surface, the autonomous vehicle will adapt its speed. Additionally, the tyre can shorten the stopping distance, provide a better cornering response, optimise stability and even support collision prevention systems.
Technology adaption: Goodyear is working with a number of vehicle manufacturers to further adapt this technology to their needs, enhancing connectivity with features such as Electronic Stability Control Systems, Brake Control Systems and Suspension Control Systems.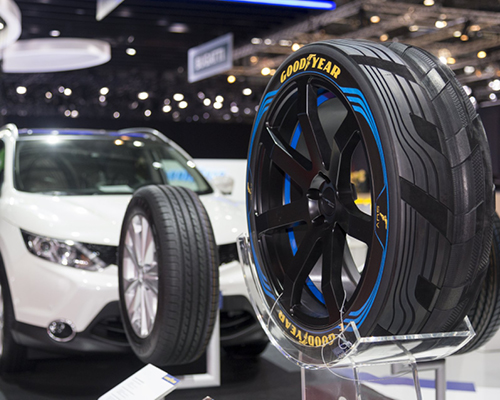 Goodyear Urban CrossOver
A customised concept tyre for the new Lexus UX concept car, combining both innovative design and technology to take comfort to the next level. Goodyear committed to the inside-out philosophy adopted by Lexus for this model, making the internal elements blend with the external ones and vice versa. The Urban CrossOver features:
Goodyear's Sound Comfort Technology, which uses an open-cell polyurethane foam element attached to the inner surface of the tyre to dampen the tyre cavity resonance sound peak.
Chip-in-tyre technology, which sends vital information to the car's on-board computer, enhancing the stability and performance of the car when cornering and braking.
Goodyear's RunOnFlat Technology, which incorporates reinforced sidewalls that can properly carry the weight of a car for up to 80 km after a puncture with complete loss of air pressure.